Commercial Roofing In Los Angeles – A Complete Guide
Did you know that a good commercial roof is one of the most important factors in keeping your business running smoothly?
Without a solid commercial roof, you could see a significant decrease in property value — not to mention all the water damage that could come with leaks.
If you're looking for a new commercial roof or need repairs done on your current one, read on for everything you need to know about commercial roofing in Los Angeles.
We'll cover everything from materials and installation, to repair and maintenance, so you can make an informed decision about your business's future.
What is commercial roofing?
Commercial roofing is a type of roofing that is specifically designed for commercial buildings. This includes office buildings, warehouses, factories, and other types of businesses.
Commercial roof systems are typically much larger and more complex than residential roofs, and as a result, they often require the expertise of a professional roofing contractor.
Commercial roofing is a complex and specialized field, and it is important to make sure that you hire a qualified and experienced contractor when you are ready to have a new commercial roof installed.
Types Of Commercial roof systems
Although the basic function of residential as well as commercial roofing systems is the same, (to provide shelter from various environmental risks) there are some major differences in both.
The first difference is the degree of roof slope which is steeper in residential homes than in large commercial buildings. This is primarily because of the difference in their sizes.
The second lies in the nature of the material used in their manufacturing. Residential roofs are normally made with a more alluring and elegant look while in an industrial building or a commercial building, resiliency and reliability are the main focus.
So, first decide what slope you're looking for, then we can get into the actual types of commercial roofing systems.
Single-Ply Commercial Roofing systems:
These single-layered roofing systems are made up of EPDM, TPO, and PVC. They serve the functional need of a commercial roofing system, meaning that it provides a rigid and durable roof.
They protect the building against various types of weathering irregularities. There are two types of single-ply commercial roofs:
Thermoset Membrane roofing systems
Thermoplastic Membrane roofing systems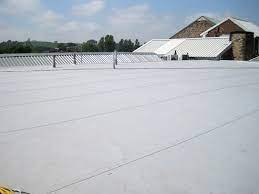 TPOs (Thermoplastic polyolefins):
These consists of highly reflective reinforced sheets. They have a heat-welded seam and are normally used where the slope of the roof is somewhat low. This is also a single-ply membrane that is made up of
Ethylene-propylene rubber
Polypropylene
These two components are polymerized together to make the heavy-duty membrane. This membrane can then be attached to the roof using various methods and procedures.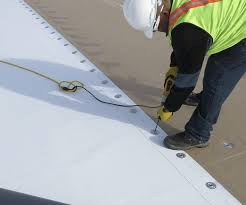 PVC (Polyvinyl Chloride) Commercial Roofing systems:
This roofing material consists of two layers of PVC and a layer of polyester in between. The upper layer is UV-ray resistant while the lower layer is flexible in order to aid in the installation procedure.
Some of the benefits of this roofing system include its long life, aesthetic, and fire resistance. In addition to these, PVC roofing membranes are recyclable and can be used in new sheets.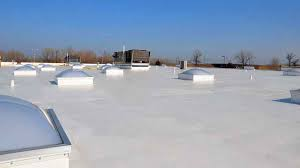 Metal Commercial roofing systems:
Metal roofing systems are mainly known for their good looks and longevity. The main feature that makes this system more in demand is that it can be used for both steep and flat roofs.
This quality makes them a really great option for roof owners that require durability along with an alluring aesthetic.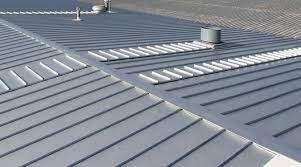 Liquid Applied Commercial Roofing systems:
This roofing system is done with resin and reinforced polyester. It is mainly known because of its waterproof characteristic and the fact that it does not leave bad smells or any sort of strong odor.
It is usually done by a roller but it can also be sprayed on, usually in two separate coats. It does not allow invasive damages to the roof and is preferred in places where the business cannot be paused because of the construction work.
Cost of commercial roofs services in Los Angeles
The cost of commercial roofing services in Los Angeles can vary depending on the size and type of building, as well as the roofing materials that are used.
For example, a small office building with a flat roof will generally require less work and expense than a large warehouse with a pitched roof.
Additionally, different roofing materials will have different costs associated with them. Asphalt shingles are typically the most inexpensive option, while metal roofs are usually more expensive.
The best way to get an accurate estimate of the cost of commercial roofing services in Los Angeles is to contact a reputable roofing contractor and ask for a free consultation.
The contractor will be able to evaluate the specific needs of your building and provide you with an accurate estimate of the cost of the project.
Things to consider before hiring commercial roofing contractors in Los Angeles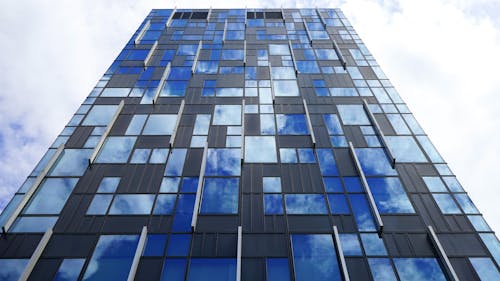 There are a few things you should consider before hiring commercial roofing contractors in Los Angeles. Here are a few things to keep in mind for the betterment of your roofing systems.
The type of roof (Flat roofs or commercial roofs)
There are many different types of roofs, so you'll want to make sure the contractor you hire is familiar with the type of roof you have.
There can be flat roofs, metal roofing, commercial roofing, or steel roofs. Metal roofing is one of the strongest systems so that you don't suffer from roof leaks.
The condition of your roof
If your roof is in poor condition, it may be best to hire an experienced commercial roofing contractor who specializes in roof repair or replacement.
Your budget
Be sure to discuss your budget with potential contractors so they can give you an accurate estimate of the cost of the project. As with most things, the higher the quality, the higher the price.
The scope of the project
Make sure you are clear about what you want the contractor to do. For example, if you only need repairs, you may not need to hire a contractor who also specializes in replacement.
The Bottom Line
Commercial roofing in Los Angeles can be a daunting task. There are many factors to consider when choosing the right roof for your business. But with Vertpro by your side, you can rest assured that the process will be as smooth and stress-free as possible.
We have over 20 years of experience in the commercial roofing industry, and we're dedicated to providing our clients with quality service and products.
Contact us today for a free consultation, and let us show you why Vertpro is the best choice for all your commercial roofing needs.